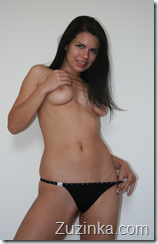 Every decade or so is clearly marked by a special panties trend.
Nobody wore g-strings in the seventies.. at least looking at old pictures and movies

Apparently the trend started in Brazil in the 80's, according to wikipedia, and then quickly span the whole western world. … (Same article also also implies that in the early nineties thongs were still considered a bit slutty

)
Now thongs are by far the most common piece of female underwear – too bad, I would love to wear one of them from time to time and feel slutty.
My point is: shouldn't we launch a whole new trend for the decade starting in 2010? "No panties" as a must, if you wear panties then you are boring… I will try to convince all my friends to follow and establish the trend, what do you think, should I do that? And will it work?